Sump pumps help prevent basements from becoming flooded as they help pump out extra water from accumulating. When you have groundwater levels rising, a sump pump will come to the rescue to divert the water from your home, often directly to the municipal storm drains. Contact us for professional sump pump installations and repairs in Greenwood and surrounding areas in Central Indiana.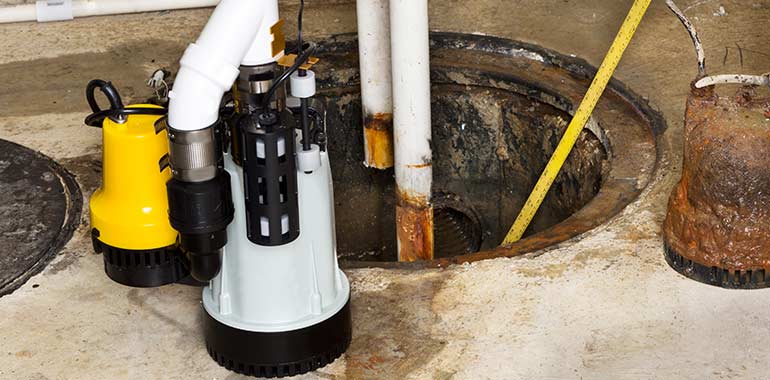 What Type of Sump Pump Should You Install?
There are different kinds of sump pumps to choose from to fit your home's needs. One type is a pedestal pump with a motor directly on top of the column, which is above the floor inside a basement.
Submersible sump pumps are another type of pump. This is installed inside a hole in the floor of the basement (the motor is waterproof so it can work underwater). Submersible units can last for many years and run quietly.
A pedestal pump is similar to the submersible pump; however, the pedestal unit's motor is not waterproof. The pedestal unit is installed outside of the basin and can be fitted for cellars, crawlspaces, and other areas that lack a basin. Pedestal pumps are also more budget friendly than the submersible pump.
What are Common Sump Pump Problems?
While sump pumps are generally reliable devices, they can undergo occasional problems.
When water enters a sump pump much quicker than the device can withdraw it, the rising water will flood a crawlspace or basement.
Another issue is that the pump can become overheated and burn out if it works consistently for lengthy periods. Though not directly the sump pump's fault, an ineffective drain system can also cancel out the efficiency of your sump pump by creating water leaks in your basement.
You may also see the intake for the sump pump become clogged, as debris and dirt can collect very easily inside a sump pit opening. Here the suction that is made by the pump will force debris and dirt near the pump's intake, which then causes the clog. In this situation, the water level rises and the pump can burn out as it continues to operate.
Another potential problem is a switch malfunction, in which the pump will not shut off or turn on. A float switch that uses a concave ball is also susceptible to problems much more than one that was created from light-weight foam.
When you have plumbing problems and you need to contact a professional, you want a company like Johnson Heating & Cooling & Plumbing. Honest, trustworthy and reliable, this company goes above and beyond to please their customers and they have been doing so for more than 45 years.